Hurricane Emily strengthens, looking to possibly hit Texas
Hurricane Emily looks poised to continue to strengthen as she moves over areas of progessively higher ocean heat content. One limiting fact in development could be a lack of outflow towards the west. However, Emily so far has maintained a well defined and tight core. At this intensity we are going to need to start keeping eyewall replacement cycles in mind as we watch Emily fluctuate in intensity. Both the SHIPS and GFDL models show continued intensification in the short term. The models remain closely packed bringing Hurricane Emily over or near the Yucatan and then into the Gulf of Mexico. Recent model runs have trended northward away from the mainland of Mexico and Belize. Interests in Texas should pay close attention to this storm as time seems to be pulling Hurricane Emily closer and closer to a direct hit.
The latest advisory lists Hurricane Emily at 125 mph and 957 mb. Storm movement remains WNW at around 20 mph. At this point those of you living in Texas should begin thinking about what you will do if threatened with a hurricane. Begin thinking about how to board up and where you would evacuate to. Planning ahead will help alleviate any rush and make you ready for the hurricane if it comes. Hurricane Emily is a category 3 storm, and the second strongest July hurricane on record. Hurricane Dennis from last week holds the record as the first strongest. Welcome to Hurricane Season 2005.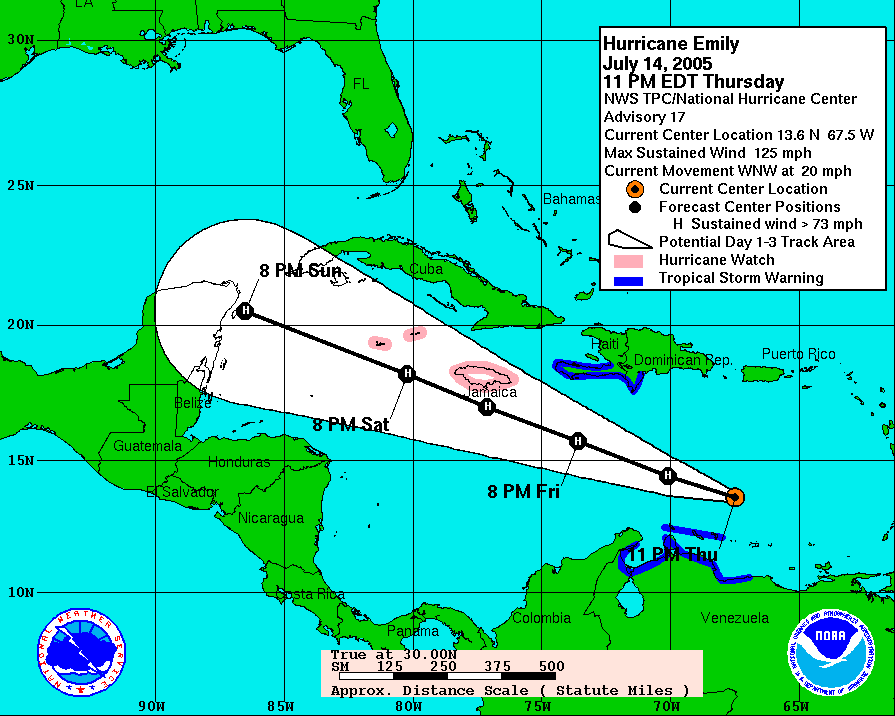 A late addition by request, a historical track of
Hurricane Allen
from 1980:
Max Winds: 165 Min Pres: 899mb Category: 5