Hurricane Warnings posted for Emily, future questionable beyond that
Hurricane Warnings are now in effect for Barbados, Grenada, the Grenadines, St. Vincent, and St. Lucia. A Tropical Storm Warning and Hurricane Watch is in effect in Tobago. A Tropical Storm watch has also been issued for Martinique.
A map of those advisories
can be found below.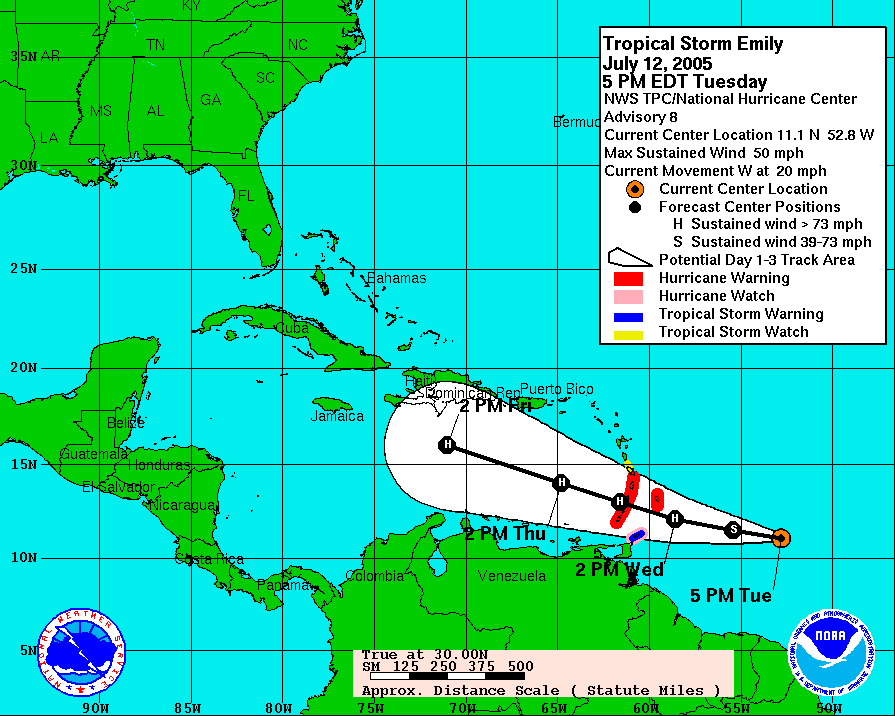 Ok, now let's talk a little about Tropical Storm Emily as she stands right now and looks to evolve. Nothing gets me in the mood to forecast like a little Fleetwood Mac.
Tell me lies, tell me sweet little lies.
Yes, meteorologists are a strange folk. In the recent satellite shots, the convection in Tropical Storm Emily seems to be inexplicably weakening and the cloud tops are warming. Despite this, her outflow looks beautiful and banding features are clear. Considering her location and the early timing of the storm, Tropical Storm is very well formed. The convection will likely return tonight but this is something to be mindful of. Of course, now as I write this, it appears as if a new burst of convection MAY be initiating. This is clear on the water vapor image below, or
the associated loop.
Shear is weak and Emily is moving over increasingly warmer waters in the next couple of days which both tend to bolster a forecast of steady strengthening. The models continue to develop Emily into a major hurricane in the next few days. Emily has taken a southward jog recently which is not helping to develop her circulation. If Emily does not move significantly to the north, her prospects for development look bleak. The southeastern Caribbean tends to be a graveyard for tropical storms. A combination of factors including a low-latitude lack of Coriolis forcing, lower available oceanic energy, and dry air from South America often lead to the death or weakening of tropical storms in this area. Two glaring exceptions to this rule are Hurricane Ivan (2004), who we all know well, and coincidently Hurricane Emily (1987). Right now in the southeast Caribbean there is a significant lack of latent energy in the ocean, especially compared to the water that Emily is currently over. Emily is following closely behind Dennis but looks to be a little further south. Typically the wake of a hurricane leaves significant upwelling and cooler water behind. Ironically it looks as if Hurricane Dennis may actually have WARMED the water in the Caribbean by spreading out a deep pool of warmer water from the north. Speaking of strange side effects of Hurricane Dennis,
take a look
at what Dennis did to an artificial reef in Key Largo. Ok, back to topic. Look at the map of Tropical Cyclone Heat Potential below to get a true understanding of what I am talking about regarding the available energy.
The official NHC forecast track above and the model forecast tracks below all take Emily very close to that area of lower energy. Additionally, the models have be trending further south for the last couple of runs, hinting to a more southerly track.
One forecast not shown here is the MM5. Right now it is closely following the UKMET, the star of last year. However, the MM5 is not very impressed by any potential for Emily to strengthen and simply maintains her as a weak tropical storm.
Despite all of this, the model intensity forecasts, which are notoriously unreliable still call for Emily to become a major hurricane. The one thing working against Emily seems to be climatology, of course as NHC's latest discussion said it, "SO FAR...THE 2005 HURRICANE SEASON SEEMS TO HAVE LITTLE INTEREST IN CLIMATOLOGY." Indeed history does not seem to matter this year. We have already seen a record setting year so why not assume it will continue? If Emily does manage to pull back north, which I am not sure will happen in time, we could be looking at another big news maker. It is very abnormal for a storm at this latitude to continue to move south so I expect we will see more northward motion soon. Then again, I refer to the climatology comment above. With this all said, check out NHC's latest
intensity forecast.