August 7 tropical update - Harvey and Irene keep chugging
I wish that there was more to say about Harvey and Irene. They each keep churning along on their merry ways, not seeming to care too much about what is around them.
Tropical Storm Harvey should be transitioning to an extratropical storm soon. He is over cooler ocean waters and is fairly far north at this point. He is currently packing winds of 50 mph and does not pose a threat to anyone other than some slightly rough seas for shipping in the Atlantic.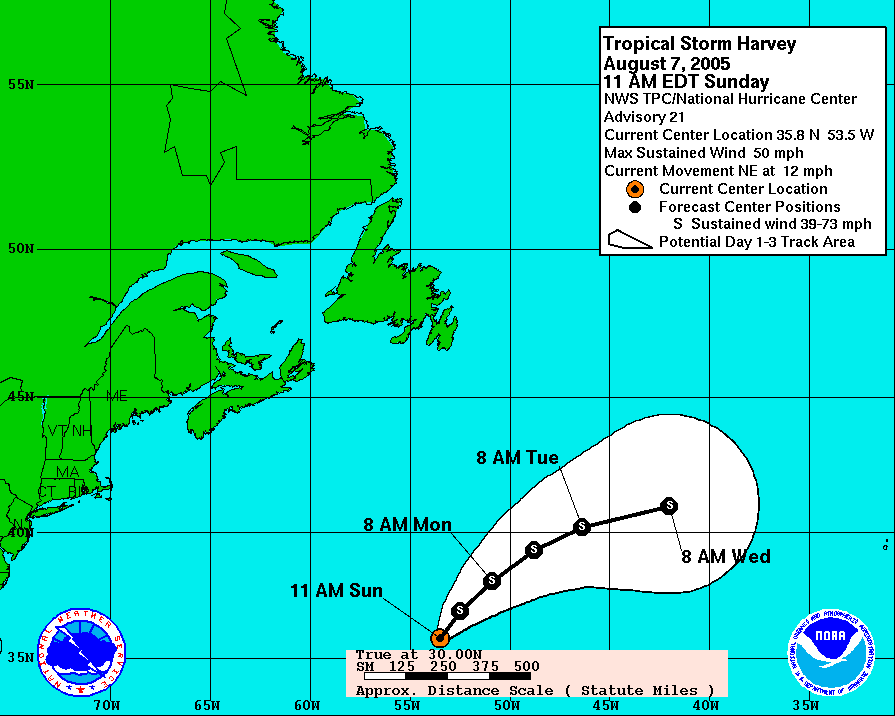 Newly named Tropical Storm Irene is also not posing much of a risk to anyone right now. Winds are near 40 mph with an estimated central pressure of 1005 mb. Irene is surrounded by dry air and encountering heavy shear. Sea surface temperatures around Irene are only marginally warm enough to support any strengthening. The storm has had several new centers for off to the north of the previous centers but the broad circulation as continued on a west-northwest track. Right now the best forecast for Irene seems to be the status quo. We'll have to see how things look in a few days with this storm.